This June, for the first time we attempted to take our residency model to a new place, Imphal in Manipur. Manipur is one of the seven sisters states, bordering Myanmar in the north eastern part of India. It was an ideal location for artists to meet, within its hilly landscapes covered with all kinds of flora and fauna and a culture deeply rooted to the land. While things look ideal on the face of it, it was a rewarding experience to delve into the diversity of lives, history and culture of the place through Art.
For the 5 day residency, we had 5 artists from 4 different communities of Manipur who participated. The program ran under the theme of, Manipur: Mine-Yours-Ours. The first day we had an orientation talking about - who is an artist, the role of arts and artists in society, how artists play a role in shaping mind sets which ultimately shapes culture, Darrow Miller's idea of 'Ideas having Consequences' and 'How ideas travel within a Culture/Community'. And then talked about Manipur - the good, positive, things that Manipur is known for, and also talking about the flip side of things - the not so good things, the negativity and issues faced. This sparked enough ideas and concepts for the artists to work with. A number of artists addressed the issue of the tribal clash (which happened years back but still has its negative impact on the tribes) and portrayed the idea of forgiveness, the beauty in coming together, the beauty of Manipur which is all the tribes combined, some expressed the negativity of the government (corruption, unconcerned about people's welfare, etc.) and all done in a way that was conceptually mature and visually pleasing.
The exhibition was on for 2 days and we had a very good response from the community. We had an approximate of 250-300 people from all walks of life attend the exhibition in the duration. Everyone was quite surprised at how the exhibition turned out and the quality of art works, as well as the engagement of different concepts that was displayed. There were a total of 12 completed art works of which 10 found permanent homes. This was another affirmation as the artists directly benefited financially from the sales.
While there is rich heritage of visual culture, be it in the textiles, architecture or wood carvings the opportunity of contemporary art dealing with modern issues was refreshing. It was what provided a new idea of what roles Art can play and similarly a new means of understanding Manipur and in a way then preserving these expressions for future generations. The need for this and the promotion of contemporary art programs then is understood to be significant and indispensable.
The residency was sponsored by two different entities who were a great help as they organised and hosted the venues both for the residency and the exhibition. With this being a low budget project, we were not able to provide honorariums for the artists and asked them to bring their own art materials and any other tools they would use. We had provided paper and canvas. In retrospect, one opinion was that the blank paper and canvas represented the opportunity and the art materials the attempt and commitment of the artist. So, on the whole it was quite successful and it ended on a note where people want more of such exhibitions, events...and they want it on a larger scale where more people can view it!
We are thrilled at the success of this residency and exhibition especially as it is a early step into reaching out further than our immediate network, and to be able to take our model of work to new cultures and contexts. We keenly look to new opportunities and to see how Art becomes a catalyst for for cross cultural exchange and while working with amazing people and artists.
We asked the participating artists and host to reflect briefly on new/contemporary art in Imphal and some of their thoughts you can find in this section. Please scroll further down to learn more about the artists in the bio section.
Albert Inkweaver Zou - participating artist:

As a person who is passionate about art but never had the privilege to explore more about it as a profession, I found the residency and exhibition eye opening and gained a lot of experience from it. It gave me lots of opportunities to express myself and gave me a platform to spread my message and opinions regarding the present situation of Manipur and its positive and negative impacts it has on the people and the land, through my paintings. Art for Change Foundation helped me, as an independent artist, to get more exposure. Being the first exhibition and residency I ever took part in I am most humbled to share it with other experienced artists hailing from different places and also learning a lot from them. I also believe this artist residency to be the first of its kind in Manipur and would very much like it to continue in the near future. In Manipur the artist community is mostly conservative to my knowledge as a result young creative artists don't have much exposure and platform to share their art. At the exhibition I noticed how successful and how great the response was, how so many people from different areas and profession came together to enjoy and discuss the various messages depicted by the paintings. As an aspiring artist I work hard to develop paintings that speak both to me and others about the beauty that exists in the society as well as the land. Art for Change and the exhibition gave me the voice to speak out and share my message.

Arin Lunghar – co-organiser:

I feel the style and technique adopted nowadays is definitely contemporary, maybe because the prolific artists now are younger compared to earlier. Also the accessibility of new mediums and materials reflects in their work, specially with digital medium lending a different kind of dexterity. Their art seems to be more about the subjects addressing prevalent social or political issues or personal opinions, than it is about the personal style that they subscribe to. Whatever the case, they've grown out of the antiquated style depicting historical epochs or events and folklores which was becoming painfully ubiquitous, personally speaking.

Sony Thokchom – co-mentor and participating artist:

Contemporary art is a new thing in Manipur as I experienced. People have seen many paintings of the famous Manipuri artist RKCS in the past and have this idea that art has to be like that. Oil paintings with compositions of either landscape or history or any representational scene of daily life in Manipur was very common. But the current generation of young artists are exploring different ways to express their art in the forms of installations, sculptures or thought provoking visuals.

K Free Themreichan – participating artist:

When I was planning to go to the art residency, I was apprehensive and excited at the same time since this was my first experience of its kind. It was also the first time that Art for Change organised its residency in Manipur as well. Also I got the chance to befriend new artists and lots of art lovers.

• Being appreciative and honouring the work of an artist is what I learnt from the residency. A lot of new ideas were gained by interacting and sharing with fellow artists.

• For me the theme is very appropriate. The series (Village Life) which I'm working on is about our lifestyle, being born and brought up in a village. Most of my paintings are reflections on Manipur.

• My work is about reminiscing the past and portraying the rich culture and beauty of our land.

• In Manipur, most of the people are ignorant about the values of art and painting and especially to see its profitable side. So, as artists we need to promote one another and organize frequent art workshops or residency programs for art lovers, and also need to sensitize about the scope and importance of art as a career. A lot of development can be brought about by art in our society.

• Conducting more programs like this will surely develop and enhance more skills to artist. A lot of talented artist are there in Manipur yet we do not know each other but through 'Art for Change' we got the chance to come together and work under one roof for a common cause.

Kamlalmang Samte – participating artist:

Contemporary art in Manipur has grown and evolved a lot through the years. Due to the advancement of technology and connectivity, accessibility has become a lot easier and as a result, a lot of local artists have been able to move out of Manipur and get trained from well-established institutes of India. With the exposure we got from mainstream Indian art and also the world, we have begun to bring in new waves in the contemporary art of Manipur. And by using the various social media platforms artists have been able to voice their thoughts on various issues, share their art works, uplift fellow artists and connect with the people. Unlike performing arts, visual art can't sustain itself on repeating the same art. And as such, visual artists continuously need to expand their creativity, ideology/philosophy, art style by immersing themselves with fellow artists and their works, the world and its people. It is encouraging for me to see fellow artists from our State making progressive advancement in this field and we need to support such efforts.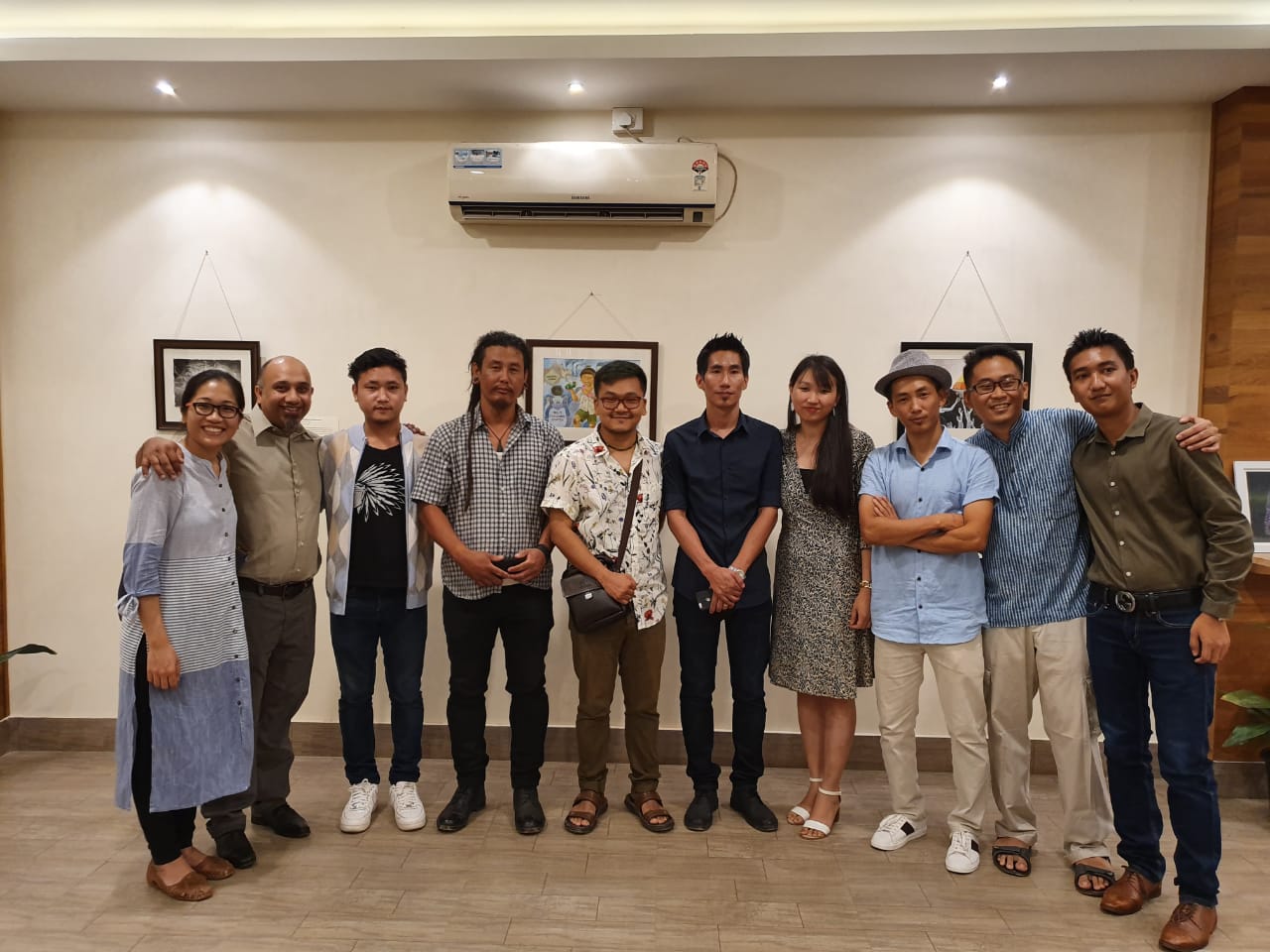 T Albert Ink Zou is an aspiring artist from Imphal East, Manipur. His style of art is expressionism and he mostly works with mixed media. He is deeply interested in abstract art and photo manipulation. As an expressionist artist he likes to portray emotions and subjective interpretations. He likes to represent vivid emotional reactions by powerful color and dynamic compositions. He believes with the right color and shape, the spectator can perceive the mood and feeling of the painting, and that encourages him towards increased abstraction. He paints about various political and social unrest. He also paints to give messages about environmental awareness.
Instagram: albertinkweaver
K Free Themreichan is a painter and a musician from Ukhrul, Manipur. He did his BFA from Imphal Arts College and went on to complete his MFA from College of Art, New Delhi. His paintings have been exhibited in various art shows. His important works include a series of watercolor paintings called, 'Village Life', and a series of paintings on feathers. He has also produced two music albums.
Instagram: free_themreichan Facebook: Themreichan Kasom Email: themreichan@gmail.com
Kamlalmang (Manga) Samte is a freelance illustrator and character designer from Haipi Village, Kangpokpi Distrcit. He did his MFA in Visual Communication (Animation) from College of Art, New Delhi.
Working with both traditional & digital mediums, he specializes in Japanese Manga, Anime, Western style comics & Fantasy elements. He has worked for various video game companies, ad agencies and animation studios as a character designer & animator. He also works on personal commissions, and selling his own art merchandise. He hopes to one day publish his own graphic novel.
Instagram: mangasamte Twitter: mangasamte
Thokchom Sony is a Manipuri visual artist based in New Delhi. His vision is inspired by ethnicities, cultures, fashion and nature, through which he hopes to provoke awareness and see beauty in the little things of life.
"I believe every person is born unique. I stand for equality and freedom of expression. I strongly feel that art in any form is a channel to express our feelings and release our energies in a positive way that could heal others and the self too."
Instagram: Sony_Thokchom Facebook: Thokchom Sony, The Manipuri.
Sorei (Shokreishang) Keishing was born in November 1980 at Kangpat Village, Kamjong District, Manipur. He studied Indian Classical Art at Artrap, Bengaluru in 2000, where he mastered carving – to sculpt on wood and stone, particularly in Hoysala, Chalukya, and Chola style. Gradually he studied his Fine Art at Ken School of Art, Bengaluru.
He has been exhibiting his works in numerous art exhibitions, both solo and group, and has been actively organizing and participating in a number of art camps.
The philosophy behind his art is to keep the Truth alive and overcome the negative spirit to enjoy the essence of life.
Facebook: Sorei Gallery
Shalem Kallimel is a creative catalyst with a heart to see humans thrive and artists flourish. Shalem and Thokchom Sony served as mentors for the residency. Shalem works with the Art for Change Foundation, founded with the conviction that art plays a profound role in exploring questions about human dignity and the common good of society. Art for Change has a vision to see art shape society with beauty and truth and a heart to see artists find their place in society and flourish. Shalem with his creative wife enjoy the company of their two boys!
Instagram: artforchangefoundation Facebook: Art for Change URL: www.artforchange.space